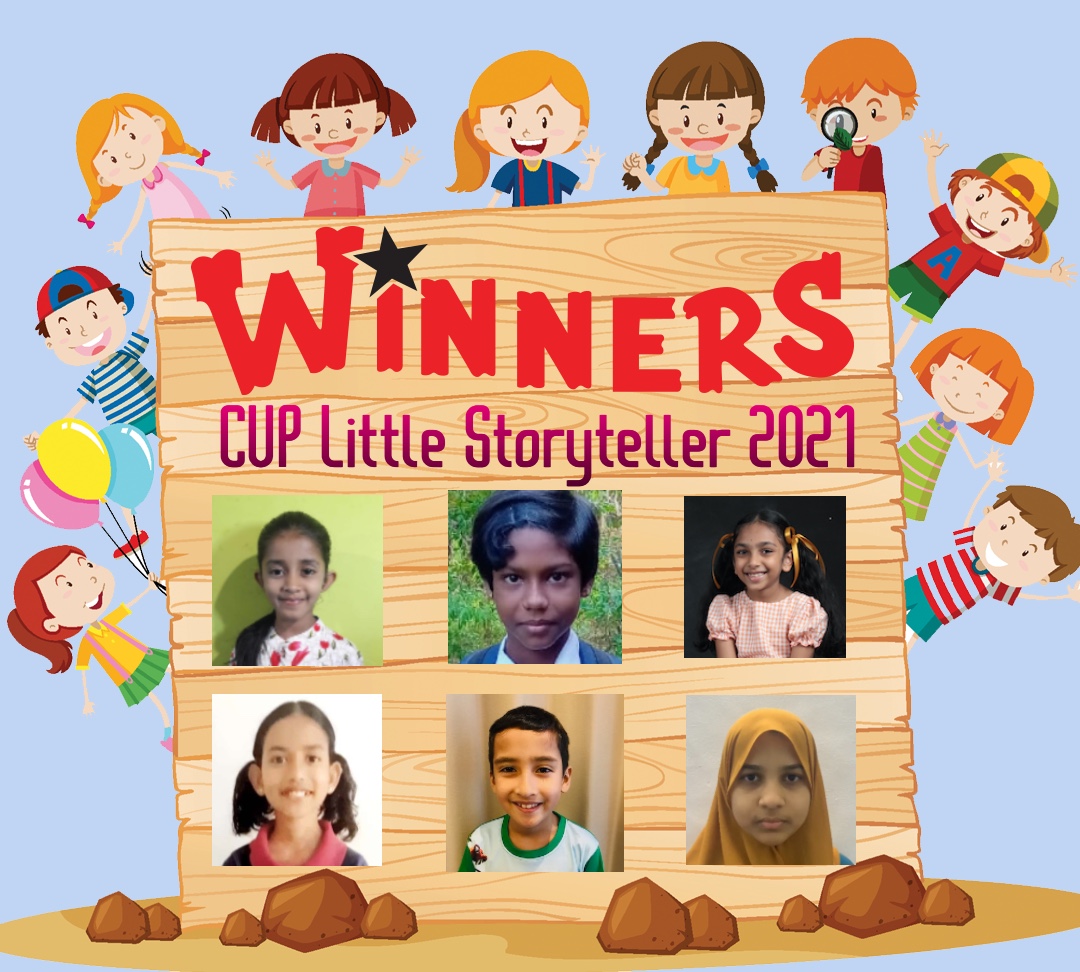 CUP organized the "Little Storyteller" competition for the children in Sri Lanka. The project's key objective was to give children opportunities to enhance their creative thinking while developing presentation skills during the pandemic. The theme of the competition was "COVID changed my life." The winners were selected in different age groups from 5 to 12 years by the experts in the field, Mr. Athula Ransirilal, the Director, Lanka Television and Radio Academy, and Dr. S. S. Jeyaprakash, Assistant Director, Tower Hall Theatre Foundation.
A total of 318 participants, six were selected as winners. Due to the COVID-19 outbreak, there was no physical award ceremony, but the certificates of appreciation and awards were sent to the winners' mailing addresses.
A special appreciation goes to Mr. Sujeewa Nanayakkara, Mr. M.M. Anver, Mr. Roshan Perera, Ms. Malathi Rajapaksha, Mr. Mahinda Saranapala, Mrs. Dilhara Karunanayake, and Mr. Dilshad Saly for their generous support to make the competition a success.
The winners are as follows.
(First row left  to right)
Medium Tamil
Age (5-8 years)
M R Amna
Grade 3
Mt/ Amina National School, Matale

Medium Sinhala
Age (9-12 Years)
H D Maneesha Dulani Wickramasinghe
Grade 7
D S Senanayake Central College, Meerigama
Age (5-8 Years)
Senuli Rashwitha Menon
Grade 3
Mahamaya Girls' College,Kandy

(Second row left  to right)
Medium English
Age (9-12 Years)
H M Onithi Inara Herath
Grade 5
Royal International School, Kurunegala
Age (5-8 Years)
Jacob Paul Willis
Grade 3
Gateway College, Ratmalana
Age (9-12 Years)
Aaliyah Azam
Grade 7
Harrow International School Beruwala